EMPLOYEE RIGHTS TERMINATION





Its not hard to fire your boss. However, it's not hard for your boss to fire you.



An employee rights termination should not happen to a good employee.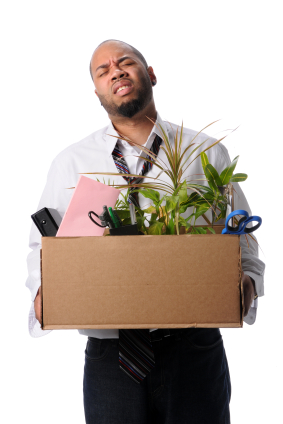 I sometimes find it hard to believe that more employees say see yaa! to companies than the other way around. Hello Yancey here and my experience has been a lot of employers maintain a "we're all powerful mentality."


Cases of wrongful termination
...involve employees who have been fired or laid off and it may not have been justified. If I were in a work situation where I had not yet been terminated I would request a suitable means of separation that involved appropriate compensation.
If an employee is fired without a good reason or in violation of state or federal law, it might be a wrongful termination.
You should seek the advice of an attorney who has expertise in employment law
to see if challenging your termination is worth it. Taking action against your employer can be costly financially, emotionally, physically, psychologically and spiritually to you and your family.
In 1998 I was fired from an employer for alleged insubordination. I complained of wrongful job termination and after many weeks of appeals I was reinstated to my position. It was a draining experience. Especially given the adverse position management had taken. Seeing what was coming I took the time to learn my employee rights. I thank GOD for that and the expert advice of my attorney.
---
employee rights termination
---
There are various state and federal laws that require workers be protected from wrongful dismissal. When these laws apply, wrongful employee rights termination may have occurred. Several examples that could validate an employee's complaint of wrongful discharge are…
constructive discharge


Your employer makes your life miserable because of the working conditions. If there are other employees who have quit because of the same conditions, it may be wrongful termination. I have a friend whose employer changed her work schedule to a "new split shift" of extremely unmanageable hours of the day and night. Her employer said it was a business necessity.

When she could no longer work the assigned hours and have a life, she quit. Soon afterward the business necessity and the "new split shift" mysteriously disappeared. This same employer had shown a pattern of creating shifts for other employees who also had to quit. Oh yes, you guessed it the created shifts also went away.



defamation of character


Your boss injures your good character by making false statements. You may have a wrongful termination claim. For example, you get falsely accused of staring a fire at work which is used as a reason to fire you.



discrimination


We as employees can't be terminated simply because of race, sex, disability, religion, and gender among other reasons of discrimination. The discrimination should be covered by a specific law. If it isn't we may have no protection from it. My boss fires me because she doesn't like what I eat. That's not discrimination. But if I show that she really fired me for one of the above reasons, I probably have a genuine claim of discrimination.
---
employee rights termination
---
breach of good faith fair dealing


Under this implied covenant employees are entitled to be treated fairly be their employers. Employers should have a special appreciation for good employees who have been around awhile, like me!



retaliation


The term whistle blower has been given a bad name in recent years. If a worker at a nuclear plant is told to keep his mouth shut about faulty safety controls but speaks up anyway, that person is my hero. Employees can't be terminated for reporting illegal activities. Employees can't be fired in retaliation for refusing to do something that's against public policy.



breach of implied or explicit contract


Employers can't usually terminate an employee without good cause before the contracts specified time period ends. If there is no explicit contract some states may regard employee handbooks, policy manuals among other documents like "implied-in-fact" as binding contracts of continued employment.
The bottom line to avoid our employee rights termination is through educating ourselves about those very rights!
If you believe you have been or may be fired for a reason that's not justified, please, please talk to a lawyer with experience dealing with your particular employment issue. It starts with us as employees learning what our rights are and then applying that knowledge in the workplace. Understanding an employee rights termination is a great place to start.
My new sites provides the
MOST
current changes affecting career seekers and employees. Some employers are constantly working to take away the rights of employees. Follow this link to
EMPLOYEE RIGHTS GUIDE
,
EMPLOYEE WORKPLACE RIGHTS
and
EMPLOYEE RIGHTS VIDEOS
for the latest employee news you can use!

What matters to me...is to help my fellow employee!
Return from Employee Rights Termination to Employee Rights In The Workplace