VIOLENCE IN THE WORKPLACE
Workplace Violence
What is violence in the workplace? If you are employed, chances are you or someone you know has been or is the victim of aggressive, hostile behavior.
Many workplace violence articles reveal that job violence can take on many forms including verbal and physical threats, physical assaults even murder! In fact, job related homicide is one of the leading causes of deaths in the workplace.
All of us that work for someone else have a right to expect that workplace to be safe and secure. Our employers have a
"duty"
to provide a work environment that is free from violence and threats of violence. Companies that fail to protect those in the workplace face...
lawsuits
low morale
increased medical expenses
lower productivity
increased liability
higher workers' compensation costs
lost work time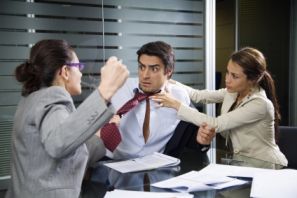 Any act of employee violence affects not only the workplace, but also where we live and raise our families. When I hear the phrase "workplace violence" images of someone going berserk and shooting present or former co-workers and managers come to mind. However, that image is distorted by the fact that most on the job murders are committed by individuals who aren't employees.


In fact the majority of incidences of workplace aggression and workplace abuse involve physical fights, harassment, verbal and non verbal threats of physical harm. Violence in workplace situations also involve the damage or destruction of the employers property. Career seekers and employees should be aware there are no precise ways of dealing with violence at work.


---
violence in the workplace
---
Workplace violence OSHA
Nonetheless, according to the (OSHA) Occupational Safety & Health Administration there are rules, proposed rules, notices and interpretative standards relating to workplace violence. The following provides guidelines for employers;
"Section 5(a)(1) of the OSH Act, often referred to as the
General Duty Clause
, requires employers to "furnish" to each of his employees employment and a place of employment which are free from recognized hazards that are causing or are likely to cause death or serious physical harm to his employees". Section 5(a)(2) requires employers to "comply with occupational safety and health standards promulgated under this Act"."
Boy that's a mouthful. The bottom line is our boss
must do everything
reasonable to provide a protected and safe place for us to work. We've all heard the term
"going postal"
This refers to an incident in August 1986 when a US postal employee named Patrick Sherrill shot 14 people to death before shooting himself in an Edmond, Oklahoma post office. Sherrill had a history of work related problems and was on the verge of possibly being fired.
In a 2000 Postal Service Commission report, the phrase "going postal" was called a "myth" because employees in other industries were more likely to be victims of workplace homicide than postal workers. The threat of violence and injury on the job involve issues creating workplace stress such as...
workplace domestic violence
intimidation
verbal and emotional abuse
stalking
...and other behaviors that promote an environment of distrust and fear.


---
violence in the workplace
---
According to OSHA about
2 million employees a year
fall prey to violence in the workplace. As we have all seen and some experienced, work violence can happen anywhere anytime. Unfortunately, certain employees are at greater risk of violence and abuse. Most people don't think about taxi cabs, mail trucks, parcel delivery trucks, armored cars, cable TV installer vehicles, police cars, water and gas utility vehicles or food deliver (pizza) cars as workplaces.
There are various reasons why individuals working in these professions are at increased risk of becoming victims of violence at work. The following causes include:
carrying passengers
working in low numbers or alone
working late at night or early morning
guarding property or large amounts of cash
exchanging money
frequent public contact
criminal justice system including probation services
community social services
health care settings involving unstable or violent patients
working in areas of high crime
I have many friends and relatives who work in high risk of violence professions and I'm sure you do to. Maybe you also work in a potentially violent workplace. So, as an employee there are two questions I should ask myself. What can my employer do to protect me? What can I do to protect myself? Remember that OSHA "General Duty Clause" mentioned earlier, companies should create violence prevention programs that accomplish the following.
Educate employees about safety procedures
Clearly state what behaviors will not be tolerated
Instructions on reporting violence in the workplace
Outline policies to protect home healthcare givers
Give field employees cell phones and other communication devices
Prohibit employees from working where they don't feel safe
Add surveillance, alarm systems, additional lighting for the workplace
Require id badges, security personnel or electronic access keys
Maintain the least amount of cash necessary
---
violence in the workplace
---
Workplace Security

I've talked about some of the things employers can do to protect us in the workplace. But, what about the things we employees can do about workplace violence safety. Unfortunately, no system is perfect when it comes to violence in the workplace policies. But the following are some of the things employees CAN DO to protect themselves.
Always inform management of concerns dealing with being secure and safe.
Alert the employer in writing about any incidence of violating workplace security immediately
Education in how to identify, stay away from and minimize situations that could become violent.
Participate in company programs involving workplace violence safety
Be aware of unsafe areas and don't travel alone
Obviously don't have large amounts of money when doing business in the community
Workplace violence prevention involves the ability of an employer to "nip it in the bud" before any damage is done. This also means our companies have learned to recognize conditions beforehand that make a hostile workplace possible. So the question is what exactly are the warning signs for employers and employees concerning workplace violence training?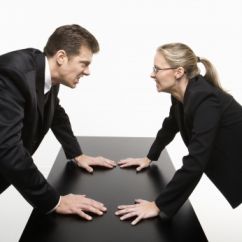 There are certain actions and behaviors that exist before a violent workplace incident. Nonetheless, there are no stereotypes or profiles that point to who is likely to "go off!" There is no one particular type of personalty trait that says this employee has the potential for violence in the workplace.



Signs of potential workplace violence usually involve things like tardiness, absenteeism, low productivity, conflict with co-workers and managers. The possibility of violent abuse at work can increase if the problem employee has to deal with disciplinary issues such as demotions and final warnings.


Do you want to help prevent someone you care about from becoming a victim of violence in the workplace? If so then TELL A FRIEND about this page below.
---
violence in the workplace
---
Workplace Violence Research

When dealing with the causes of violence on the job employers and employees should understand the different categories of violent abuse in the workplace. Workplace violence researchers generally agree that four different kinds of on the job violence exists.

Criminals outside the workplace attacking employees
Violence from customers aimed at employees
Former or present co-worker violence against other employees
Domestic violence in the workplace from a relation, friend or spouse of an employee
Another way workplace violence occurs is through the destruction of property owned by employers, employees, customers and vendors. Violence and workplace are two words that have come together to bring fear in the hearts of employers and employees alike. According to the U.S. National Institute for Occupational Safety and Health, about three people will be murdered on the job everyday.
A million people are assaulted and over 1,000 murdered in the workplace each year. As sobering as these statistics are there is one that is even more disturbing. There has been an
amazing increase in the number of employees killed by clients and customers
. OSHA figures show this number has grown from 25 in 1997 to 74 in 2007! Learn why it's important to understand how
workplace violence statistics
affect you.
Violence in the workplace has become far more complex than the random well publicized shooting sprees we see on television. Not many employers will have to deal with that level of violence at work. The vast majority of employees will be exposed to threats, assaults, destruction of private or company property an robbery. This is why employers and employees should learn to recognize the different
types of workplace violence
before they occur.
---
violence in the workplace
---
The Occupational Health and Safety Act makes it mandatory for employers to maintain a healthy and safe working environment for everyone in the workplace. There are many different resources that offer assistance and training for employers and employees provided by
OSHA
.
There are many reasons a career seeker and employee should learn all they can about basic employee rights before accepting employment. One of the most important is learning all you can about
workplace violence warning signs
. A workplace that promotes a positive atmosphere of respect and professionalism with an emphasis on
preventing workplace violence
will be a far safer environment than one that doesn't. What are the important behaviors to look for if you believe a co-worker or manager may become violent?
Follow this link for examples on how to determine if a threat of violence is real.
Prevent violence in the workplace part 2
.
Follow this link for solutions to stopping workplace violence before it starts.
Preventing workplace violence solutions part 3
Follow this link to solutions to four scenario examples of workplace violence.
Preventing workplace violence solutions four scenarios part 4
My new sites provides the
MOST
current changes affecting career seekers and employees. Some employers are constantly working to take away the rights of employees. Follow this link to
EMPLOYEE RIGHTS GUIDE
,
EMPLOYEE WORKPLACE RIGHTS
and
EMPLOYEE RIGHTS QUESTIONS
for the latest employee news you can use!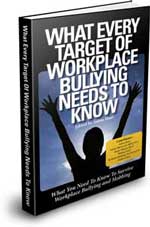 Are You A Target of Workplace Bullying?
Download:What Every Target of Bullied at Work Needs to Know. Learn how To avoid the traps, stop bullies in their tracks and get your life back!
More Information:
OvercomeBullying.org
What matters to me...is to help my fellow employee!
Return from Violence in the workplace to You can learn basic employee rights