ILLEGAL INTERVIEW QUESTIONS
Illegal Job Interview Questions
Many employers commonly ask illegal interview questions during job interviews. Local, state and federal laws are designed to keep companies from asking you questions that not related to the job applied for.
Hello I'm Yancey and
good job interview questions should not seek to uncover personal information on the job applicant
.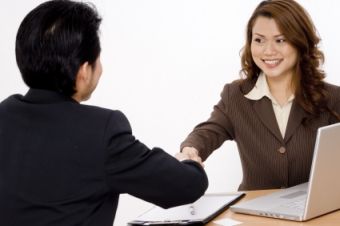 When conducting job interviews the questions should always seek to determine if the job seeker is qualified to perform the duties of the job.
As I mentioned before laws are in place to prevent employers from discriminating against possible employees.
A job interview is an opportunity to show the employer why you are the one for the job. The interviewer wants to learn as much about you as she can and if you are indeed the one for the job. Unfortunately, some employers deliberately and unintentionally ask improper or illegal questions.
I have encountered many job interviewers who didn't have a clue about how to conduct a good job interview
. Many of them receive poor job interview training and are not aware of what they should and should not ask.
---
illegal interview questions
---
Bad Job Interview Skills…
…are sometimes just a sign of poor training. The illegal interview question may not be intended to prevent you from getting the job. I believe the overwhelming majority of interviewees get asked illegal, borderline illegal, improper or sensitive interview questions at some point during the hiring process.


Here are some tips for job interview answers if and when you are asked illegal job interview questions.

Do not react with hostility

Many job applicants feel insulted by certain questions and want to respond negatively. Avoid wanting to "go there" with the job interviewer. Try to stay focused on getting the job. You always have the choice of not accepting the job when its offered.



Answer the question

Answering an illegal question might lead to job interview rejection. A "wrong response" by you could disqualify you for the job. You may have legal options at that point but that's not a desirable outcome.



Refuse to answer the question

You have the right to refuse the question. You can refuse to answer the question if doing so makes you uncomfortable. However, not answering may be viewed as confrontational or you not willing to be a "team player". The job interviewer may not hire you for this reason. Again, there may legal options available, which should be avoided if possible.



Respond to the "intent" of the question

Remember the person interviewing you may have little or no job interview training. He or she may not intend to keep you from getting the job. For example you may be asked "Have you ever been arrested?" This is an illegal interview question.

The interviewer may not be aware of that. Your appropriate response to this illegal job interview question could be "I have never been convicted of any crime, especially any related to the requirements of this job".
---
illegal interview questions
---
A variety of local, state and federal laws make employment discrimination illegal. Title VII of the Civil Rights Act of 1964 (Title VII), which prohibits employment discrimination based on race, color, religion, sex, or national origin. Title VII does not contain a definition of "race."
Race discrimination includes discrimination on the basis of ancestry or physical or cultural characteristics associated with a certain race, such as skin color, hair texture or styles, or certain facial features. Color discrimination occurs when a person is discriminated against based on his/her skin pigmentation.
That means the (lightness or darkness of the skin), complexion, shade, or tone. Color discrimination can occur between persons of different races or ethnicity, or even between persons of the same race or ethnicity.
For example, an African American employer violates Title VII if he refuses to hire other African Americans whose skin is either darker or lighter than his own. The EEOC (Equal Employment Opportunity Commission) maintains there is nothing job related to justify asking a job seeker a question about race.
The bottom line is that employers are restricted from asking about a job applicant's religion, mental or physical disabilities, race, national origin, gender, marital status, sexual orientation, age or ethnic background.
---
illegal interview questions
---
The following are some…
Sample Job Interview Questions…

…that are illegal interview questions.

Illegal race related questions
What race are you?
What diverse or minority group are you?
What race is your spouse?
After getting the job employers can ask for photographs for identification purposes. Affirmative Action programs allow companies get voluntary race info from the job applicant.

Illegal religion questions
What church do you go to?
What religion or denomination are you?
The appropriate question:
Are you available to work weekends? (Should be relevant to the job)

Illegal age questions
What is your age?
What year were you born?
The appropriate question:
Are you over the age of 18?
When someone is hired identification is verified by various documents including drivers licenses.

Illegal disability questions
Do you have any disabilities or handicaps?
Do you have any history of mental illness?
Do have a history of substance abuse?
Do you require any accommodation to perform the job?
The appropriate question:
Do you have the ability to perform the essential functions of this position? (The job interviewer should have given detailed information about the job before asking this question)


---
illegal interview questions
---
Here are some more…
Typical Job Interview Questions…

…that are improper or illegal to ask in a job interview.

Illegal citizenship questions
Were you born in the US?
Are you a citizen of the US?
Is your spouse a citizen of the US?
The appropriate question:
Can you prove employment eligibility after you are hired?

Illegal marital status questions
Are you married?
Are you separated from your spouse?
What is your maiden name?
Are you divorced?
Tax and insurance forms require marital status when the applicant is hired.

Illegal national origin questions
What nationality are you?
What is your heritage?
The appropriate question:
Can you verify legal US residence or have a work visa?

Improper sexual orientation question
Are you lesbian or homosexual?
A lot of local and state governments restrict discrimination because of sexual orientation. However, there are no federal government laws that provide protection.


---
illegal interview questions
---
Sometimes a job applicant is called for a second, third or even fourth job interview questions and answers session. This usually means you will deal with more than one interviewer. Since these people may have different levels of job interview training here are few more…
Common Job Interview Questions…

…that are improper or illegal.

Illegal sex questions
Are you or do you plan on getting pregnant?
Who will take care of your kids while you work?
How much money does your spouse make?
How many children do you have?
What are the ages of your kids?
Employers are prohibited from discriminating based on pregnancy, childbirth or related medications. This is because of the Pregnancy Discrimination Act. The Civil Rights Act prohibits discrimination based on sex. A job interviewer has to be acting in "good faith" with a non-discriminatory purpose when asking you to specify "Mr./Mrs./Miss" or "Male/Female".

Illegal arrest questions
Have you spent time in jail?
Have you ever been arrested?
The appropriate questions:
If you have been convicted of a crime, when, where and what was the nature of the case?
Have you ever been convicted of _________? (The crime should be associated with the duties of the job applied for)

Illegal labor questions
What unions are you a member of?
Do you like unions?
The National Labor Relations Act states that it is a violation for an employer to discriminate in hiring to discourage or encourage membership in any labor union.

Illegal military questions
Were you honorably discharged from the military?
What branch did you serve in?
Are you in the reserves and want leave to serve?
On October 13, 1994 Congress signed the Uniformed Services Employment And Reemployment Rights Act (USERRA) into law. This law makes it a violation to discriminate against returning service members because of their military obligation.

The law is designed to make certain those who serve their country can keep their civilian benefits and employment. The law also aids service members to find employment free from discrimination as a result of their service.


---
illegal interview questions
---
If you believe, an employer's intent in asking illegal interview questions was to discriminate against you during a job interview you have several options.
Consult with an attorney with employment law expertise
File a claim of discrimination with the EEOC
You can contact the Equal Employment Opportunity Commission (EEOC) by clicking this link:
EEOC how to file


Learning good job interview questions begins with understanding illegal interview questions. Everyone who applies for a job should know more about appropriate…
Job Interview Questions and answers…

by visiting my good job interview answers page.

My new sites provides the MOST current changes affecting career seekers and employees. Some employers are constantly working to take away the rights of employees. Follow this link to EMPLOYEE RIGHTS GUIDE and EMPLOYEE WORKPLACE RIGHTS for the latest employee news you can use!


The easiest way to find what you are looking for, is to simply enter your search term into the Google search box below.
Custom Search

What matters to me...is to help my fellow employee!

Return from Illegal interview questions to Preparing for an interview