INTERVIEW QUESTIONS TO ASK
Job Interview Questions To Ask

The interview questions to ask are just as important as the job interview questions the employer asks you!


You have just gone through answering a lot of tough interview questions.





The interviewer looks a you and says, "Do you have any questions?" You should never go into job interviews without job interview questions for the employers.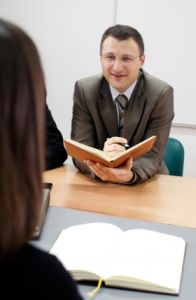 Hi, I'm Yancey and I have experienced many job interviews over the years. I must admit early on I made the mistake of not asking the employer job interview questions.


Job applicants should always have questions to ask at the end of an interview. When the job seeker answers "no" it gives the employer the impression you don't really want the job.


It may not be a good sign for you if you are not asked at the end if you have any questions. The interviewer may have concluded that your answers during the job interview has eliminated you from getting the job.


To learn more about the job interview questions and the answers employers are looking for, follow this link to my good job interview answers page.


---
interview questions to ask
---
Questions To Ask At Interview End

Don't be intimidated about asking the interviewer the same tough questions that were asked of you. Your questions should be relevant to the position and your needs. It takes two to tango and job interviews are no different. Even though you interview for a job, the job should also interview for you!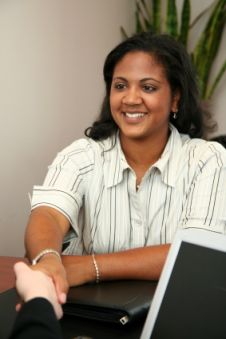 The job interviewer is trying to determine if you are right for the position. You should also ask questions to figure out if the job is right for you.


By not asking the employer questions you leave yourself at a big disadvantage. One of the worst things you can do is accept a job that's not right for you!


A good interview question to ask would be, "Does the company expect to have any growth or layoffs in the near future?" You fail to ask this interview question and accept the job.


Six months later you find there has been two year merger negotiations with another company that involved many layoffs including your job!


---
interview questions to ask
---
Questions To Ask Interviewer
Since job interviews involve both employer and job seeker, you should have several objectives:
show off your qualifications
decide if the job is right for you
get the job

The following are some interview questions to ask the interviewer.
Why is this job open?
Why hasn't this position been filled from within the company?
Will I be given an employee handbook?
Who will I report to?
Is there any travel involved?
Does this company use 360 feedback evaluation programs?
Will I be expected to relocate?
Can I have a written job description?
What do you like about working here?
In the job description, what does other duties as required mean? What does other related duties mean?
Is this a newly created job?
What is the turnover rate for this position?
What would the day to day job duties be?
Is this company stable financially?
What types of training would be available for me?
What is the morale of the company?
What would I be expected to achieve in this position?
Would I manage any employees?
Does the company have an internal appeal process involving disciplinary action?
Who will work most closely with me?
---
interview questions to ask
---
Questions To ask The Employer
What is the company's dress code policy?
What would you like to see changed within the company?
What types of computer systems does the company use?
When may I expect to know of your hiring decision?
Where do you see this company in the next 5 years?
How will my performance be evaluated?
How long has this position been open?
Who will be making the hiring decision?
What would you recommend to someone in this job?
Can you give some information about whom I will be working with?
How is outstanding job performance rewarded?
Will I be working with any problem co-workers?
Does this position have any customer contact?
What is the company policy on internet use?
Are layoffs decided by seniority, job performance, etc.?
What is this most difficult characteristic of this job?
Is it possible for me to meet the people I would be working with?

These are some of the most asked job interview questions by job applicants of employers.
Questions To Ask In Interview Closing

If you really want the job you should know what appropriate closing interview questions to ask. Here are several examples:
What would keep you from offering this job to me right now?
Do you have any concerns about my qualifications to do the job?
Are you concerned about me fitting in with this company?
Is there anything about my education, skills and experience that concerns you?

In the closing procedure, do not expect a job offer. When conducting job interviews the employer usually will have other applicants to interview. The interviewer may also not have the authority to make the final hiring decision and have to communicate with others in the company.


You have set yourself apart from the competition by demonstrating knowledge about the job and the company. You have asked the interviewer quality job interview questions. Before the job interview always make a list of questions for the employer to reinforce your interest in getting the job.


---
interview questions to ask
---
Remember to ask questions about what happens next.
What happens next in this process?
When do you expect to hire someone for the job?

Always thank the job interviewer for the interview and ask for a business card. You should send a job interview thank you note as quickly as possible. Job interview thank you letters should be sent within a day or two of the job interview. Learn more about thank you letters on my interview thank you letters page.


My new sites provides the MOST current changes affecting career seekers and employees. Some employers are constantly working to take away the rights of employees. Follow this link to EMPLOYEE RIGHTS GUIDE and EMPLOYEE WORKPLACE RIGHTS for the latest employee news you can use!


What matters to me...is to help my fellow employee!
Return from Interview questions to ask to Preparing for an interview