PREVENTING WORKPLACE VIOLENCE
Part 1
Workplace Violence Prevention
The responsibility for preventing workplace violence must involve all areas of the workplace.
These commonly include human resources, legal department and any security personnel.
Workplace violence can include assaults, murder, attempted murder, verbal threats and harassment. Violence in the workplace is committed by employees, former employees, customers, criminals with no relationship to the company and individuals with personal relationships with employees.
A workplace violence plan will only be as effective as the environment the employers create or allow. Research shows when companies have high morale the opportunity for a violent workplace incident is greatly reduced. However, when employers allow or condone a culture of harassment, bullying, intimidation, discrimination and low morale, the job becomes a ticking time bomb for violence.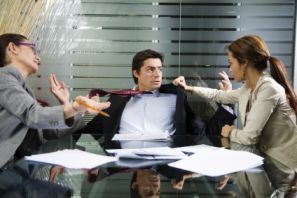 Employers earn the trust of their employees by fair treatment, good faith dealing, equitable opportunity, open lines of communication, employee involvement in decision making, equal compensation, promotions and providing a safe working environment. When these conditions are in place job stress is at a minimum. Unfortunately, all too often many employers are negligent in many or all of these areas.
My name is Yancey and my workplace has been a classic example of a workplace that nurtures distrust, disparate treatment, intimidation, retaliation and bullying. I have witnessed and experienced managers allowing co-workers to bully and curse at other employees, supervisors and managers! It's incredible that no physical violence has taken place. But, what is truly amazing is that my workplace is local government! That's right, local government!
---
preventing workplace violence
---
Workplace Violence Intervention Program
The (OSHA) Occupational Safety and Health Act says employers are required to "furnish to each of his employees employment and a place of employment which are free from recognized hazards that are causing or likely to cause death or serious physical harm to his employees." this is sometimes called the
"General Duty Clause"
. Federal, state and local government employers are supposed to be in the business of enforcing the laws of the land.
If you are working in an environment where your employer does not place high importance on violence intervention then you really need to keep reading. As employees we should always seek to be aware and educate ourselves about all of our
basic employee rights
including workplace violence prevention programs.
According to the (NIOSH) National Institute for Occupational safety and Health
murder is the leading cause of death for women
on the job. That statistic alone shows how serious preventing workplace violence has become. One of the more dangerous aspects of violence in the workplace is the attitude that it is unpredictable or happens randomly. Generally, a problem employee will show some
workplace violence warning signs
before the violence occurs.
If you or someone you know works in any of the following conditions you are at a greater risk of being a victim of workplace violence.
work mostly alone
work in homes or community situations
work at night or early morning
drive passengers or deliver goods and services
work in locations with high crime
exchange money with customers
These conditions are common to jobs such as police, taxicabs, parcel delivery, health care workers, social workers and convenience store clerks.
---
preventing workplace violence
---
Violence Prevention Program
The federal OSHA departments have come up with a system to categorize violent incidents on the job.
This system provides a description about the individual that goes off and the relationship with his/her workplace victims.
According to OSHA their are four basic kinds of workplace violence. They involve
acts of crime
,
customer/patient
,
employee-on-employee
and
personal relationship
. Any workplace violence plan must develop solutions that have an understanding of these
types of workplace violence
.
There is no "cookie cutter" or "magic bullet" approach for developing a violence in the workplace policy of prevention. Employers are different and so are their workplaces. Our employers will not have the same resources to deal with preventing workplace violence. But, there are general guidelines that our workplaces can use effectively to minimize the possibility of violence. Ensuring workplace violence safety will involve every organization in your workplace such as;
human resources
security
legal department
OSHA personnel
risk management
unions
owners or top executives
public relations
A lot of employers still rely primary on human resources, security and the legal department to handle issues of workplace violence prevention.
Human Resources

This department will normally have a leading role in creating the guidelines, procedures, training, enforcement and discipline involving preventing workplace violence. Every employee should also be aware that human resources first duty will be to protect the company not you!



Legal Department

This department exists to keep our employers on the right side of the law, employment and otherwise. It also will use every tool available to bury the employee if necessary.



Security

If your employer has a security department it would probably be alerted first to deal with any threat or violent incident. If not then the management or the owner would normally have that responsibility. Security personnel should have experience in coordinating with law enforcement in creating and assisting in an effective plan violence prevention.
---
preventing workplace violence
---
Workplace Threat Assessment
Preventing workplace violence can be difficult for a variety of reasons. Employers that develop a
Threat Assessment
plan, specialist or team are better prepared to head off violence. Understanding the critical importance of recognizing and properly handling a potentially deadly workplace situation is what a workplace threat assessment is all about.
As an employee I want to know what my employer is doing to protect me. I'm also going to be proactive in taking appropriate steps to protect myself from workplace violence. For example, let's look at the following scenarios.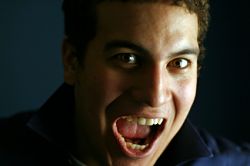 Hostile child support payer

A divorced man is ordered to pay child support on his two children through the court. He is extremely angry because he believes the court is forcing him to pay more than he should. He is also paying his ex-wife alimony which he also thinks is unfair. He feels humiliated at the judges decision in front of a room full of people. As he leaves he curses the judge and storms out of the courtroom threatening to "get even".
Here are some of the problems in preventing potentially violent workplace situations.
This first example involves the
customer/client
type of workplace violence.
(1) Does the court take the "get even" comment seriously?
(2) What does "get even" mean?
(3) If the threat is genuine, what preventive steps can be taken?
(4) How long should the court concern itself with the threat?
(5) Should the appropriate law enforcement agencies be alerted?
(6) What should the court tell it's employees and everyone working in or associated with the courthouse system?
---
preventing workplace violence
---
Exploding intimate friend or spouse

A male office clerk informs a supervisor his estranged wife wouldn't give him a divorce. She has since found out he has a girlfriend whom the wife has threatened with physical harm. To make things worse the girlfriend is an employee working in another department! The wife has assaulted him at least twice and now threatens coming to his workplace to "Kick his and the girlfriend's asses".
This example involves the
personal relationship
type of workplace violence.
The employer is confronted with several dilemmas in this scenario.
(1) Does the husband's supervisor inform the girlfriend's supervisor of the wife's violent threat?
(2) If so what violence prevention steps should that supervisor take?
(3) Since the threat of violence involves two employees the risk has now doubled for the entire workplace!
Would you like to learn more?
We continue our look at
preventing workplace violence part 2
with more workplace violence scenario's.
My new sites provides the
MOST
current changes affecting career seekers and employees. Some employers are constantly working to take away the rights of employees. Follow this link to
EMPLOYEE RIGHTS GUIDE
,
EMPLOYEE WORKPLACE RIGHTS
and
EMPLOYEE RIGHTS QUESTIONS
for the latest employee news you can use!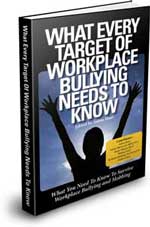 Are You A Target of Workplace Bullying?
Download:What Every Target of Bullied at Work Needs to Know. Learn how To avoid the traps, stop bullies in their tracks and get your life back!
More Information:
OvercomeBullying.org

What matters to me...is to help my fellow employee!
Return from Preventing workplace violence to Violence in the workplace