WORKPLACE VIOLENCE STATISTICS
Statistics On Workplace Violence
Workplace violence statistics reveal how dangerous and risky it is to be an employee.
Most career seekers and employees assume their potential place of work will be safe and secure.
Unfortunately, this is not always the case.
Studies show that
1 million or more
violent situations occur in the workplace every year! Workplace violence is very real and can explode anytime and anywhere.
My name is Yancey and I also work for a living to pay the bills, etc. In over thirty years in the workplace I've witnessed many incidents of violence on the job. Violence in the workplace is fast becoming the number one problem for employers. A lot of job applicants accept positions with companies focused on other things instead the fact they may be verbally and physically assaulted, or worst yet killed.
The National Institute of Occupational Safety and Health says there are 3 people murdered everyday at work. Murder is the second highest reason for death in the workplace with over 1000 being killed every year! I don't know about you but I certainly want to know to recognize when someone may be a ticking time bomb. If you do too follow this link for the
warning signs of workplace violence
.
Jobs involving the public
have the greatest risk of becoming a workplace violence statistic. Two out of three physical assaults happen in the medical care and social service industries. The (OSHA) Occupational Safety and Health Administration states that female state employees are victims of workplace violence almost 9 times more often than those in non-government jobs. This due to the everyday contact with the public.
---
workplace violence statistics
---
Sadly, people employed in jobs that serve the public are physically assaulted the most. For example, dedicated caring employees working for Child Protective Services are frequently exposed to violence trying to remove children from abusive home environments. Workplace violence statistics show it is generally accepted that violence in the workplace falls into one of four different types. These are...
Criminal Type I
Customer,client,patient Type II
Employee vs Employee Type III
Personal Relationship type IV
According to a U.S. Department of labor report titled National Census of Fatal Occupational Injuries, most workplace murders happen in the
Criminal Type I
of workplace violence category. This commonly involves industries associated with bus drivers, taxicab drivers, restaurant, motel, hotel, liquor, convenience, grocery and other retail employees. Also in recent years the second most workplace murders involved the
Employee vs Employee Type III
category. This crossed all areas of employment with employees killing each other in the workplace.
Following that is the
Personal Relationship type IV
, the victim is usually an intimate friend, ex-husband or ex-wife. Finally, the
Customer,client,patient Type II
where the victims are commonly police officers, security personnel, lawyers, judges, social workers, hospital and other medical care providers. However, the overwhelming majority of workplace violence is not homicide.
According to the U.S. Department of Justice, Bureau of Justice Statistics the non-fatal assaults, threats, stalking, harassment, sexual assaults and rape, robbery make up this majority. Follow this link for more information on the different
types of workplace violence
.
---
workplace violence statistics
---
Violence In The Workplace Statistics
The following are some sobering violence in the workplace statistics involving guns from handgunfree.org.
91.6% of shootings on the job committed by men
Almost 38% of shootings in the workplace happened in "white collar" situations. This makes up over 30% of all fatal shootings at work.
About 36% of shooters who are men committed suicide after killing others.
About 7% of shooters who are women committed suicide.
Florida and California were the most dangerous states involving shootings on the job.
24% of workplace shooters were laid off or fired.
about 9% of those shooting showed warning signs beforehand that were commonly ignored when others noticed them.
close to 79% of all weapons used in shooting were handguns with about 81% of those being semiautomatic!
There were about 13% of shootings in the workplace that involved a former or current intimate relationship.
Over 13% of cases revealed the workplace shooter had a history of mental health issues.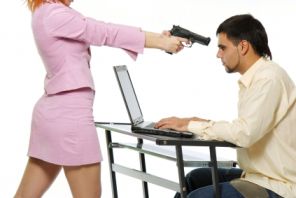 There are many more gruesome statistics of how big of a problem workplace violence is becoming, but I believe you get the point. Shootings in the workplace are increasing and should be a major concern for employer and employees of small, medium and large companies. However, the simple assault makes up about 95% of all violence in the workplace. Another area of concern is the high financial cost of workplace violence.
Obviously monetary cost is nothing compared to the human cost of lives negatively impacted. The (NIOSH) National Institute for Occupational Safety and Health statistics revealed an average mean cost for on the job homicide to be about $800,000 from 1992-2001. The total cost of murders in the workplace was upwards of 6.5 billion dollars in this same period of time.
---
workplace violence statistics
---
Employers have a legal duty to seek to identify and prevent everyone from becoming a part of workplace violence statistics. Employees also have a responsibility to assist in keeping their environments safe and secure by reporting any behavior in others that may lead to incidents of violence.
My new sites provides the
MOST
current changes affecting career seekers and employees. Some employers are constantly working to take away the rights of employees. Follow this link to
EMPLOYEE RIGHTS GUIDE
,
EMPLOYEE WORKPLACE RIGHTS
and
EMPLOYEE RIGHTS QUESTIONS
for the latest employee news you can use!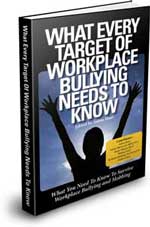 Are You A Target of Workplace Bullying?
Download:What Every Target of Bullied at Work Needs to Know. Learn how To avoid the traps, stop bullies in their tracks and get your life back!
More Information:
OvercomeBullying.org

What matters to me...is to help my fellow employee!
Return from Workplace violence statistics to Violence in the workplace