The Advantage Of Learning Your Employers Termination Strategy Against You
How should you respond to your bosses plan to terminate you?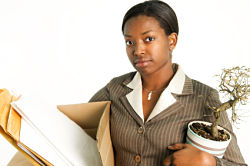 Learning Your Employers Termination Strategy is the third installment in our "Learn What To Do If The Employer Is Setting You Up For Termination" series.
Previously we've learned the signs to look for to determine if we've been targeted for termination. You also learned the steps to take when there's no doubt your boss has decided to fire you.


I can tell you from my own employment experience that once you've been targeted for termination the employer will use everything they can to do just that. If you have not given them justification such as theft, workplace violence, consistent poor performance with warnings they will carefully plot over time to get rid of you. Bad faith employers will try any tactic they believe will work against you.
The key to the employers success depends on his main weapon ......."The Smoke Screen"!


"The Smoke Screen" is the umbrella under which your boss hides all the other ammo designed to blow away your employment. If you have properly protected yourself from an unjust immediate termination "The Smoke Screen" is usually implemented.  "The Smoke Screen" is intended to give a false sense of security that you're no longer on the hit list. All to often this strategy works because employees having done nothing wrong don't want to believe their boss is trying to fire them.


"The Smoke Screen" is the perfect bait and switch trap employers hope to set for employees. The employee may say to themselves, "They are no longer after me" or "It was all just a big misunderstanding", everything is as it was before. WRONG!! This is exactly the illusion the employer wants you to believe. The goal is to get the employee to let her guard down and provide a means for the employer to build a case for termination.

---
Employers Termination Strategy

---


Target For Termination

The following are the goals of "The Smoke Screen".....


===> Get YOU to volunteer to leave

Your boss wants to lull you into volunteering to quit. This provides them with the easiest and most painless way to get rid of you. If you have rock solid documentation that your boss can't defend why would you just let them "off the hook". An employer was willing to offer me a "go away" severance package. I had excellent documentation and witness ammo. I didn't accept to voluntarily leave under terms outlined which were slanted in favor of the employer. I would think long and hard with attorney guidance before ever considering any "go away" severance.


===> Get YOU to trust them

Repeat after me...DO NOT TRUST HR, EEO (Equal Employment Office(r), Managers, Owners or co-workers. Once management decides you are an enemy, who you trust at work will usually make or break the outcome. The few co-workers you can trust can still be manipulated by management against you. You don't need to be paranoid just prepared.


===> Get YOU to stop documenting them

The employer knows how important rock solid documentation is. Stop documenting your employer's behavior and you give away a powerful weapon. Trust me, They WILL continue to create documentation on you!   


===> Get YOU off balance with the "good cop bad cop" routine

I've personally had this happen. The manager one day seeks to find everything wrong with your work and the next act as if your work is excellent. This is designed to get you off balance and make you think your suspicions about their intent may be wrong. This particular element of "the smoke screen" makes documentation even more relevant!


---
Employers Termination Strategy
---

Employers Wrongful Employee Termination


===> Get YOU to believe "The Storm Has Past"

Employees please don't fall for the "everything is okay now" routine. Employers rarely withdraw from their plan to get rid of you! However, depending on how well you have prepared for their initial attacks they will usually back off for a period of time to regroup and design a new plan of attack. You may enjoy a time of "peace" from the constant edge associated with the day to day battle with a boss determined to "steal" your job. However, this is the time you need to be "harmless as a dove but wise as a serpent". This simply means maintain your good job performance, comply with all company policy, keep most co-workers at arms length and remain calm no matter what.


===> Get YOU to help them "cut your throat"

It's amazing how many employees fall into this trap. When employers have succeeded in getting you to fall for the aforementioned "smoke screen" tactics it's much easier for them to win with this one. The bad faith employer wants to get rid of you no matter what. Your boss will be totally dedicated to creating a well documented negative paper trail on you! They will want you to sign off on all types memos, evaluations, etc. They will even "cook up" paperwork for you to put your initials on. You've been forewarned!


Finally, the glue that binds the "smoke screen" of the employers termination strategy is that old reliable weapon called the "job evaluation", "employee performance review" or "employee performance appraisal". This is the main tactic they use because it's usually the most effective. Why? Because most employees don't understand how easily job evaluations can be used against them. 

In the 4th Installment:
"How To Create Effective Strategy To Protect Your Job"
---
Employers Termination Strategy
---
Along with this "The Advantage Of Learning Your Employers Termination Strategy Against You" page, my new sites provides the
MOST
current changes affecting career seekers and employees.
Some employers are constantly working to take away the rights of employees. Follow this link to EMPLOYEE RIGHTS GUIDE, EMPLOYEE WORKPLACE RIGHTS and EMPLOYEE RIGHTS VIDEOS for the latest employee news you can use!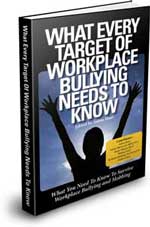 Are You A Target of Workplace Bullying?
Download:What Every Target of Bullied at Work Needs to Know. Learn how To avoid the traps, stop bullies in their tracks and get your life back!
More Information:
OvercomeBullying.org

What matters to me...is to help my fellow employee!
Return from Employers Termination Strategy To HOME