EMPLOYER CLOSING FOR KILL!


Your Boss Is About To Pounce...Now What?


Employer closing for kill! This is the 7th installment in my "Learn What To Do If The Employer Is Setting You Up For  Termination" series. "How To know When Your Employer Is Closing In For The Kill"! You have now established your termination is imminent.
It may be a matter of days or several weeks.
You've heard through the "grapevine" a YOU ARE FIRED arrow with your name on it is being aimed. You have with all due diligence gathered and documented sufficient evidence to present to your legal advocate.
Of course as I've previously discussed we should already have been consulting with a qualified employment attorney for any serious employment concerns.

Your boss has attacked by attempting to violate your various rights such as FMLA (Family Medical Leave Act), (ADAAA)  American with Disabilities Act Amendment Act and more. As a result of your preparation for these attacks and your  counterattacks your boss is desperate. He/she has consulted with the other "workplace conspirators" and has set a definite timetable for shutting down your employment.
---
Employer Closing For Kill

---
This is decision time. This is the time for you to truly understand what the struggle and fight has really been all about. The following questions must be answered by YOU;

1. Have I compiled sufficient documentation and evidence to     prove discrimination, retaliation or some other violation by my employer according to the guidelines of the relevant enforcement agency?

2. Have I been in consultation with a qualified employment law  attorney since my employer started violating my rights.

3. Am I prepared mentally, psychologically, physically, emotionally, spiritually and yes to some degree financially to fight for my employment to the end?

4. How will moving forward affect my family and me?

Defending my employee rights was one of the most challenging, frightening and rewarding experiences of my life. In fact, it was my employment struggle and triumph that created my passion and compassion for helping others in the workplace defend their rights. It is an unbelievable feeling of accomplishment to prove to yourself and those witnessing that I'm not helpless. My boss is NOT all powerful. Proving that I had a right to keep my job was indeed satisfying. It can be for YOU too!


---
Employer Closing For Kill
---
Get input from friends and family about what you intend to do next. Remember to take care about sharing specifics. After having carefully weighed the four previous questions, if you decide to move forward the next step is to file a lawsuit BEFORE the employer fires you!

One of the MOST important reasons for consulting with an attorney is obtaining guidance in when you should file your  complaint or lawsuit. Learning all you can about your employee rights and how they are applied is of course the first step in protecting them. The right time to launch your legal action against an employer requires the following...

 ---> Rock solid evidence that your boss violated your rights

---> The complaint is filed with the appropriate department of government

---> File your lawsuit BEFORE your boss terminates you!

Remember as we discussed before once you formally file a complaint or suit against your boss that will usually bring  his/her adverse action against you to a screeching halt. Most will do this because they don't want to get hit with an additional retaliation lawsuit. Unfortunately, some employers will either believe they  have just cause or with such a high level of animus will fire you  anyway. Employers that act from negative emotion rather than reason almost always prove the persecuted employee was just that...persecuted and or discriminated against.

We'll take a look at what to do when that happens in the 8th installment called "How To Be Prepared For Termination D-Day".


---
Employer Closing For Kill
---
Along with this "Employer Closing For Kill" page, my new sites provides the
MOST
current changes affecting career seekers and employees. Also, inside tips and tricks from real world situations.
Some employers are constantly working to take away the rights of employees. Follow this link to EMPLOYEE RIGHTS GUIDE, EMPLOYEE WORKPLACE RIGHTS and EMPLOYEE RIGHTS VIDEOS for the latest employee news you can use!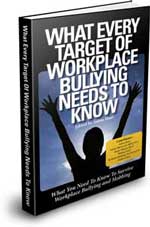 Are You A Target of Workplace Bullying?
Download:What Every Target of Bullied at Work Needs to Know. Learn how To avoid the traps, stop bullies in their tracks and get your life back!
More Information:
OvercomeBullying.org

What matters to me...is to help my fellow employee!
Return from Employer Closing For Kill To HOME