SAMPLE EMPLOYEE PERFORMANCE...
Sample employee performance review forms make interesting reading for employees.
Understanding how an employee performance form works can ease the employee's anxiety. Employee evaluations can be highly emotional.
Some managers look at doing sample employee performance reviews as just another function of their job.
Employee Performance Evaluation Form
But for the employee the anticipation of being called into the manager's office can be quite traumatic! Why? Because most of the time the employee doesn't know what to expect from this encounter.
The employee performance review form can be a source of terror to workers who wonder what it contains. A lot of employees before their evaluation are fearful that the boss will focus on any negatives more so than the positives of the employee performance review forms.
Hello my name is Yancey and this page is dedicated to helping the employee understand what employee performance evaluation forms contain. People in the workplace should learn all they can about a performance evaluation form.
---
sample employee performance
---
Sample employee performance reviews Examples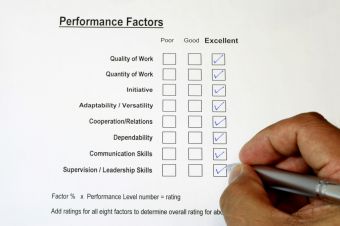 Employee performance evaluation samples are also called…
employee appraisal
employee evaluation
employee performance rating
employee performance report
employee performance measure
employee performance system
employee review
…among other terms. Regardless of what your company calls the process, it should always involve a method of determining the quality of job performance by the employee. It should also include dialogue between managers and employees designed to meet goals that are clearly communicated.
Employees should receive fair and accurate reporting on their performance evaluation form.
Employee confidence about being evaluated is dependent on the credibility of the process.
Most employees are encouraged and energized when their performance review is accurate and adds cash to the bottom line. When performance reviews are unfair and inaccurate, employees tend to lack motivation even if there's a pay increase.
---
sample employee performance
---
An Example of a Employee Performance

…evaluation and the conversation between the employee and employer follows.
Supervisor (on phone): Yvonne, you have a few minutes for your evaluation?

Yvonne: Okay.

Supervisor: Alright Yvonne have a seat.

Supervisor: How are you doing?

Yvonne: I'm fine.

Supervisor: Let me start by saying I'm pleased with most of your work since the last review. However, there are some areas that need to be addressed.

Yvonne: What areas?

Supervisor: We've received complaints from users in other departments about you being slow in resolving help desk issues.

Yvonne: When did you receive these complaints?

Supervisor: I started receiving the first complaints about two months ago. Since then there have been around several a week.

Yvonne: Well I didn't know about that. No one has said anything to me.

Supervisor: That's why we're discussing it now. Also Jimmie your co-worker is doing a great job. He's only had a few complaints.

Supervisor: I know you don't like me as much as the previous supervisor because you don't come in and talk to me the way your co-workers do. But, anyway in my opinion you may not enjoy your work.

Yvonne: I don't have anything against you sir. I'm not the type of person to sit in the manager's face either. If you have documentation of these complaints I'd like to see them. This will help me to determine what I need to improve.


---
sample employee performance
---
Sample Employee Performance Appraisals

Even Stevie Wonder could see how incompetent this supervisor is in this performance review employee sample! The employee performance record review should be a positive experience. The employer made several deadly mistakes that ensured the failure of the process. Here are a few of them.
Yvonne wasn't given any notice between the last employee performance reports and the current one about any problems.

The supervisor compared Yvonne's performance to Jimmie, a co-worker.

The supervisor made the employee performance assessment personal by suggesting Yvonne didn't like him.

The supervisor has no documentation to support the negative aspects of Yvonne's employee review form!
This supervisor's performance review employee sample is heading down a trail that could land his company in big time legal hot water for any number of issues such as
gender discrimination
.
When an employee receives a job performance review that's inaccurate they tend to lose any confidence in the process. The employer is also likely to have a high employee turnover rate. Likewise, employees that receive an accurate employee job evaluation tend to be more motivated and interested in their employment.
When its employee evaluation time the employee performance review forms should have all the basic elements. These include the...
employee's name
department of work
employee's job title
evaluators name
evaluators job title
date of employee performance assessment
in some instances the time of the job performance review
time since the last employee evaluation review
other individuals present for rating employee performance
---
sample employee performance
---

Employment performance evaluation forms will usually contain several areas of interest. These will focus on different parts, such as…
Employee Performance Evaluation section

This section deals with many different issues involving quality of work, ability to work with others, effective communication, leadership qualities, ability to multi-task, problem solving, self starter, personal conduct, adherence to company policies, appearance, attendance, tardiness and specific job knowledge.



Employee Evaluation Rating section

Rating employee performance is determined by quality of the performance appraisal. The workforce can be scored as acceptable, unacceptable, excellent, outstanding, satisfactory, unsatisfactory, meets minimum requirements, marginal or deficient. I just love how my present and past employers have used and abused these and other adjectives in performance appraisal systems and evaluations.



Evaluator Comments section

This is the section where the evaluator addresses concerns and highlights excellent job performance. If there are concerns the evaluator should be very specific about what in my job performance needs improvement. Make sure your employer gives you exact details about what areas of your work that are a problem. When you require your employer to identify "need improvement" areas it forces her to give you an opportunity to address and improve if truly necessary.

Employers who are acting in "bad faith" will seek to create issues where none actually exists. This practice is commonly called "dirtying your personnel file", because employee performance appraisals go into your permanent employment record. When you have excelled, make sure the evaluator is also very specific about the areas of your employee performance report that are praiseworthy. This goes into the personnel file too and is an effective counter to any negative comments entered.



Employee Comments section

In my research I'm amazed at the number of times when the employee is asked, "Do you have any questions or comments?", the response is no. Usually they are just glad they survived and still have a job. However, this is a HUGE mistake. For example, the evaluator may have missed something critical such as your raise being denied because your evaluation on the point system only graded at 2.5 instead of a 3.0 to qualify for a raise.

Asking questions like, "Will my raise be affected by this performance evaluation rating?" are usually important to the average employee. I have said this many times and I'll say it yet again. Never assume your supervisor, manager or evaluator has been properly trained! That's one reason it is absolutely vital that we as employees understand our Basic Employee Rights.
---
sample employee performance
---
Sample employee performance review forms

Follow this link for more great info on employee performance evaluations.

Here's an example of an employee performance evaluation. It is important for employees to be aware of what's contained in employee performance ratings forms. It is also important to learn how to prepare for them. I was intrigued by this example of an employee performance evaluation. It has a sample narrative evaluation form that employers use. It contains some of the different terms describing each criteria for employee performance. Some of these terms may sound familiar from your own past employee evaluations.


Is there someone you know that should be told about sample employee performance reviews? If so then TELL A FRIEND about this page below.
---
sample employee performance
---
My other sites provides the
MOST
current changes affecting career seekers and employees. Some employers are constantly working to take away the rights of employees. Follow this link to
EMPLOYEE RIGHTS GUIDE
,
EMPLOYEE WORKPLACE RIGHTS
and
EMPLOYEE RIGHTS QUESTIONS
for the latest employee news you can use!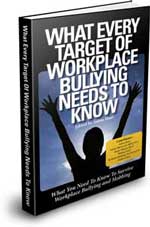 Are You A Target of Workplace Bullying?
Download:What Every Target of Bullied at Work Needs to Know. Learn how To avoid the traps, stop bullies in their tracks and get your life back!
More Information:
OvercomeBullying.org


What matters to me...is to help my fellow employee!

Return from Sample Employee Performance to Employee Performance Reviews